On April 29, 2014, we will experience an Annulus Ring of Fire or Solar (New Moon) Eclipse. Tuesday's solar eclipse is known as an "annular" — rather than "total" — lunar eclipse. That's because Tuesday's eclipse will occur when the moon is close to its farthest distance from the Earth, making it too small to cover the sun completely. The resulting effect looks like a ring of fire, called an "annulus," appears around the silhouette of the moon.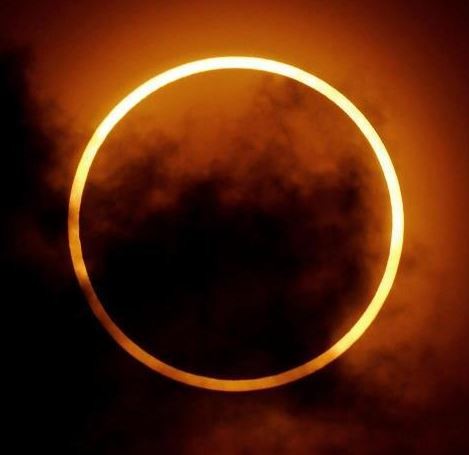 Just as the previous meaningful and powerful astrological events, this Annulus Ring of Fire Solar Eclipse is no less important. Because solar eclipse happens on a New Moon its a good time to perform a ritual or magic. Because of the new beginnings its time to let go of old habits and thoughts that no longer service you. The Annulus Ring Fire Solar Eclipse is good for dropping personal restraints and fears and shining like the power of the sun, and embrace its power. April 29, 2014, the solar eclipse will be in house of Taurus.
Both the Moon and the Sun are in Taurus the Bull and in the second house which rules   money, bankers, resources, personal earnings that you make and gains and losses.  The association of the bovine with the bountiful is already an inherent part of our modern culture. Think  of the famous American Wall Street symbol.
This would be a great time to perform another money or abundance ritual to call in the power of the Annulus Ring of Fire Solar Eclipse on April 29, 2014 (the eclipse will occur 2:14 am Philadelphia-EST American time). We recommend a yellow or golden candle as to draw in your personal power to manifest abundance. (Remember, letting go of your fear)
For this ritual we suggest a New Abundance Check (light the candle during the money ritual):
New Moon Abundance Check
On a new moon, and within the 24 hrs after it, you can also physically write out a check to the universe for whatever sum you desire, and that you think is reasonable. By writing the check you are setting the
intention and signaling that you are ready and willing to receive. This can become a monthly ritual that acts to re-assert your intention and show the universe you mean business!
You can use a real check, or one that you draw or type up. There are also a lot of abundance cheque templates you can find online. You may use the one I made below. When you fill out the cheque, write out your name where it says "Pay to," and in the area where you would write out the dollar amount, write: "Paid in full."
Within 24 hours after a New Moon, have your check.infront of you . Where it says "Pay to," write your name, and all names you've ever gone by. As for the amount, there are two things you can do. One is to write down a specific amount, the other more effective one is to write "Paid in full," which opens you up to a limitless amount for your Highest Good. Then, instead of signing the check with your name, write: "The Law of Abundance." When you are finished, put it in a safe or special place and forget about it. The Universe will take care of it from there.
Remember any rituals performed during solar eclipses are very powerful, please be sure to take this situation very seriously.